Contents
Introduction to the ORCID inbox
The ORCID inbox is ORCID's messaging system, which helps you manage how and when you receive notifications from ORCID about changes to your record and announcements and service messages from ORCID. The inbox can be accessed while signed into your ORCID record by clicking on your name at the top right corner, then clicking on Inbox, or by going directly to https://orcid.org/inbox.

The ORCID inbox displays message notifications including:

You choose how frequently you receive notifications from ORCID when you register your ORCID iD. You can also change how frequently you receive notifications from ORCID in your account settings by clicking the edit button in the email and notification preferences tab.

Auto-archive of old notifications
Notifications can be sent when there is activity on your account, so your inbox may receive a large number of notifications. Older notifications are automatically archived once you receive more than 100 notifications, and they are archived if they are older than six months. Your Inbox can hold a maximum of 10,000 notifications -- older notifications are deleted once you receive more than 10,000. Finally, any notification older than one year is permanently deleted.
---
Types of notifications
Account and record notifications
ORCID sends notifications about activity on your ORCID record in your ORCID Inbox and via email to your primary email address. You can choose which types of notifications to receive and how often you'd like to receive them.
Notifications appear immediately in your ORCID Inbox unless you have chosen to never receive inbox notifications.
ORCID sends account and record notifications about:
More information about granting permissions can be found in granting access from a notification below.
More information about changing whether and how often you receive notifications can be found in notifications frequency settings below.
---
New features and tips notifications
Choose whether to receive emails from ORCID about new features and tips for making the most of your ORCID record. These messages are sent to your primary email address once quarterly.

---
ORCID service messages
Service messages about changes to ORCID services or policies are sent to all ORCID registrants to their primary email addresses, as required by law. These announcements are rare. As this information may affect your visibility settings and the functioning of your ORCID account, you may not opt-out of service messages per our privacy policy.
Granting access from a notification
Organizations that create DOIs will let you know when they have a work with your ORCID iD included and request your permission to add that work to your ORCID record. Your work will only be added once you've granted the organization permission to do so. To grant an organization permission, you first have to receive a notification which includes information about what works they want to add, a button to grant permission for the works to be added, and a link to archive the notification without granting permission.
When you click on the grant permissions button, you will be taken to a page to authorize the connection and allow the organization to update your record with the work. You will be given the option to grant permission indefinitely (for a period of 20 years) – meaning that they can update your record automatically whenever a new work associated with your ORCID iD is found in their system.
If you do not want to grant the organization permission to update your record with the new work, click on the archive without granting permissions link.


Notifications frequency settings
You can choose which messages you would like delivered to your inbox when you register and in your Account Settings under Email and notification preferences. If you created an ORCID account prior to October 8, 2015, your notifications preferences will be weekly by default.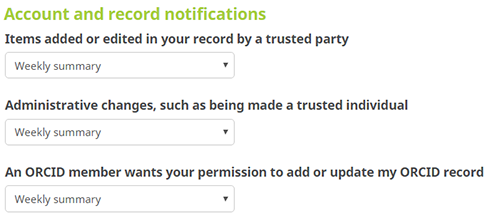 You can choose from one of five frequencies for each type of account and record notification:
Immediately
Daily (summary)
Weekly (summary)
Quarterly (summary)
Never
If you choose never, then no notifications will be sent to either the ORCID Inbox or your email address.