The ORCID Registry is designed to discourage more than one account for an individual. We allow only one ORCID iD per email address, and we check for duplicates based on name when you register.
If you attempt to register for a new ORCID iD with an email address that is already associated with an ORCID iD, you will be prompted to sign into the existing record.
If your name already exists in our system, you will see a list of ORCID records with the same name as you.
If you previously registered with ORCID, you should click on that record to sign in, rather than creating a new account.
If you have not used ORCID before, then none of the listed individuals are you, and you can click None of these are me - continue to registration.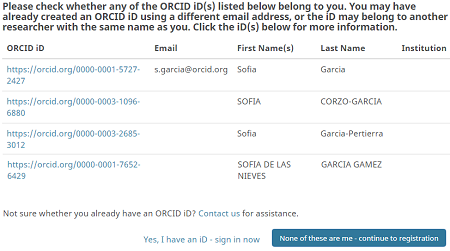 Can I delete my duplicate ORCID iD?
Despite our controls in place, you may inadvertently register more than one ORCID iD.
ORCID are unable to delete the duplicate ORCID iD. However, you can remove the duplicate from your Account Settings so it refers to your primary ORCID iD.