Please note that this action will delete all information and permissions from the duplicate record (they cannot be transferred); only the email address(es) associated with it will be transferred to your primary record. Once a duplicate record has been removed, it cannot be reinstated.
Because ORCID identifiers are designed to be persistent, obsolete iDs will be deprecated, not completely deleted. Data on the deprecated account will be deleted, and the iD will point to your primary record, both in the user interface and the API. An example can be seen at https://orcid.org/0000-0001-6151-2200.
To deprecate your second record, start by logging into the in the primary account/iD you want to keep, go to Account settings, scroll down to Account actions and select Remove a duplicate record.

Enter the sign-in details (email address or ORCID iD, and password) for the record you want to deprecate, then click Remove duplicate record. If you have forgotten the login details for your duplicate record, you can reset your password or contact us for help.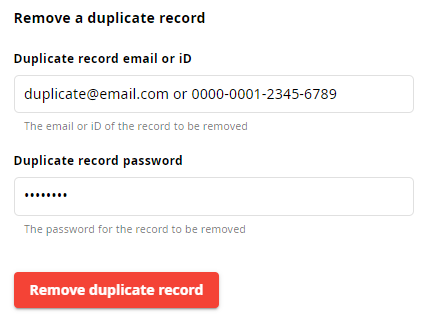 To confirm, click Remove duplicate record. If you have more than one record to deprecate, simply repeat this process for each additional record.
ORCID relies on individuals to report and remove duplicate records. If we receive a report from the community about a potential duplicate record or incorrect data which may need to be corrected, we will follow our dispute procedures to address the situation.
Are you looking for information about consolidating duplicate entries for publications? Learn more about grouped works.