Watch our short video about how to add an employment affiliation to your ORCID record
Add information about your current and previous employer(s). Trusted organizations can also add/update this information, and we strongly encourage you to give them permission to do so (learn more about auto-updates). Look for the green iD icon next time you log into your employee profile or directory system. Your organization will be listed as the source of the affiliation on your record. Allowing your organization to add and update your employment affiliation means you now have easily sharable information that is authoritative and trustworthy, and saves you time when completing forms.
You can also add this information manually. Under "Employment", start typing the name of your current or previous employer. As you type, our system will automatically suggest possibilities from a pre-populated list. Whenever possible you should select an option from this list, as it enables your ORCID iD to be connected to the correct organization identifier for your institution; it is also used when searching ORCID by organization. You may select an option from the list and then change how the name will appear in your record if the organization is not correctly listed. If your organization is not listed, please enter the information manually.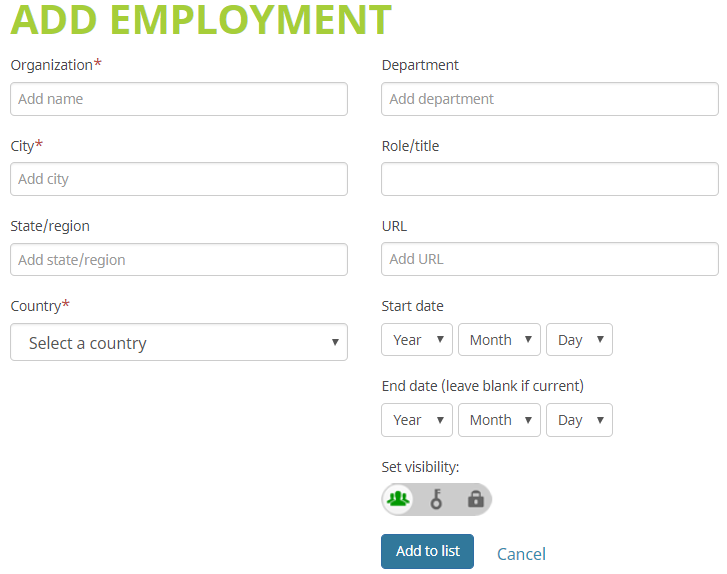 Once an organization is selected, information about it will automatically populate other fields. While some organizations will include department level listings, please choose the highest level of the organization and provide departmental information in the department field.
Add start date (required) and end date (if applicable), and click "Add to list". The employment affiliation is now added to your ORCID record.